---
UPCOMING EVENTS FOR TEENS
CHECK OUT THESE UPCOMING EVENTS FOR TEENS IN OUR NEW LIBRARY!
INFORMATION ABOUT BOOK CLUBS CAN BE FOUND UNDER THE "BOOK GROUPS" TAB
Register with Anne, the Young Adult Libarian, at the library, by email (athie@hopkintonma.gov) or by telephone (508-497-9777 x1529).
TAG Meeting
- The
Teen Advisory Group
will be meeting for the first time in our new library! TAG is for students in grades 6-12 interested in assisting with events and programs in the library for teens.
Monday, Nov. 13th, 2:30-3:30 PM, snacks provided
Middle School Graphics Club
- Meet with other teens in grades 6-8 interested in discussing graphic novels, manga, and anime, and share some of your original work! This is the first meeing of a new club here at the library!
Tuesday, Nov. 14th, 2:30-3:30 PM, snacks provided
Holiday Crafternoon for Teens
- Make some beauty products from all-natural materials to keep yourself or give as gifts! All supplies generously provided by the Friends group. Limit of 12 participants.
Saturday, Dec. 2nd, 1:00-2:00 PM
Girls Who Code
- In January we are starting a GWC club here for students in grades 6-8, and there will be an informational meeting for those interested (parents and teens) to hear about the program, what it offers, and receive general guidelines. The GWC club itself will be limited to 10 participants.
Wednesday, Nov. 29th, 7 PM
---
Books for Middle School Boys and Middle School Girls
A List of Recommended Titles from the Young Adult Section
Have you read most (or all) of the books in the Children's section of the library and want to check out some possible titles in the Young Adult section? Click on the link for a list of exciting and appropriate titles in the YA section that might interest middle school boys and girls!
/ckfinder/userfiles/files/Books%20for%20middle%20school%20boys(2).pdf
/ckfinder/userfiles/files/Books%20for%20middle%20school%20girls.pdf
---
2017 IS THE 50TH ANNIVERSARY OF THE YOUNG ADULT NOVEL!
All year we will be celebrating the "birth" of young adult literature!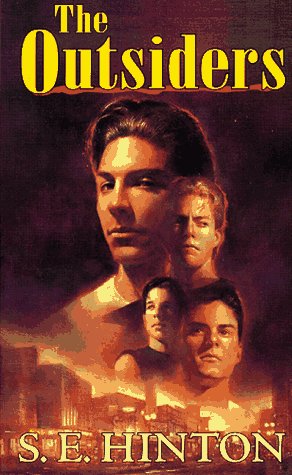 In 1967, S.E. Hinton wrote a book that revolutionized the writing world and publishing industry.
The Outsiders
is considered by many to be the first book specifically written for teens, and the genre has exploded since then, with bestsellers, related television series, and movie spinoffs! This year we will be celebrating young adult literature with related programs and activities in the library. You can currently find critical articles related to YA lit in the library to take and read, and we are challenging tweens and teens to read 25 or 50 YA books this year, record them, and enter to win a prize! I am taking the challenge as well, and you can see my list below and in the library! Stay tuned for more 50th anniversary news!
YA books read in 2017 by Anne:
Wayfarer
by Alexandra Bracken
Ever the Hunted
by Erin Summerill
Wink Poppy Midnight
by April Genevieve Tucholke
Falling Over Sideways
by Jordan Sonnenblick
The Hundred Lies of Lizzie Lovett
by Chelsea Sedoti
Carve the Mark
by Veronica Roth
Exit, Pursued by a Bear
by E.K. Johnston
A List of Cages
by Robin Roe
Caraval
by Stephanie Garber
The Stranger Game
by Cylin Busby
City of Saints & Thieves
by Natalie C. Anderson
Asking for It
by Louise O'Neill
Rise of Fire
by Sophie Jordan
Wintersong
by S. Jae-Jones
The Last of August
by Brittany Cavallaro
King's Cage
by Victoria Aveyard
The Valiant
by Lesley Livingston
The Hate U Give
by Angie Thomas
Beautiful Broken Girls
by Kim Savage
The Great Pursuit
by Wendy Higgins
The Ship beyond Time
by Heidi Heilig
Lily and Dunkin
by Donna Gephart
Daughter of the Pirate King
by Tricia Levenseller
Strange the Dreamer
by Laini Taylor
Girl, Stolen
by April Henry
You Don't Know My Name
by Kristen Orlando
Empress of a Thousand Skies
by Rhoda Belleza
Zenn Diagram
by Wendy Brant
The Distance Between Us
by Kasie West
Flamecaster
by Cinda Williams Chima
A Death-Struck Year
by Makiia Lucier
Shadowcaster
by Cinda Williams Chima
Duels & Deception
by Cindy Anstey
Avenged
by Amy Tintera
Count All Her Bones
by April Henry
The Traitor's Kiss
by Erin Beaty
Who Killed Christopher Goodman?
by Allan Wolf
The Names They Gave Us
by Emery Lord
The End of Our Story
by Meg Haston
Letters to the Lost
by Brigid Kemmerer
Missing
by Kelley Armstrong
Alex, Approximately
by Jenn Bennett
One of Us is Lying
by Karen McManus
The Last Thing You Said
by Sara Biren
The Whole Thing Together
by Ann Brashares
The Crown's Fate
by Evelyn Skye
Words in Deep Blue
by Cath Crowley
And Then There Were Four
by Nancy Werlin
When It's Real
by Erin Watt
Julia Defiant
by Catherine Egan
Midnight Jewel
by Richelle Mead
Reign of Serpents
by Eleanor Herman
The Leaf Reader
by Emily Arsenault
The Gentleman's Guide to Vice and Virtue
by Mackenzi Lee
The Possible
by Tara Altebrando
The Lake Effect
by Erin McCahan
Obsidian and Stars
by Julie Eshbaugh
Breaking
by Danielle Rollins
Song of the Current
by Sarah Tolcser
The Scattering
by Kimberly McCreight
The Disappearances
by Emily Bain Murphy
The Wood
by Chelsea Bobulski
When I Am Through With You
by Stephanie Kuehn
Amid Stars and Darkness
by Chani Lynn Feener
A Map for Wrecked Girls
by Jessica Taylor
A Million Junes
by Emily Henry
The Rattled Bones
by S.M. Parker
Daughter of the Burning City
by Amanda Foody
Genuine Fraud
by E. Lockhart
The Last Magician
by Lisa Maxwell
Tower of Dawn
by Sarah Maas
Warcross
by Marie Lu
Hunting Prince Dracula
by Kerri Maniscalco
Ally
by Anna Banks
Before the Devil Breaks You
by Libba Bray
The Knowing
by Sharon Cameron
The Secret History of Us
by Jessi Kirby
The Nowhere Girls
by Amy Reed
---
Anne Thie, Young Adult Librarian
Follow me on Twitter at:
YAhoplibrarian@YAhoplibrarian
for the latest on new books, author links, what I've read, and upcoming programs at the library!

My normal hours are:

Mondays, 12 to 8
Tuesdays, 9 to 5
Wednesdays, 12 to 8
Thursdays, 9 to 5
Fridays, 12 to 8
Teens and tweens
-
drop by, introduce yourselves, and ask for recommendations! Tell me your favorite books, authors, series, games, movies, shows, and music - help me get to know what you would like in your library!
I just finished reading:
One of Us is Lying
, The Leaf Reader, and The Gentleman's Guide to Vice and Virtue, to name a few.
Read in the past year:
Zenn Diagram
, Shadowcaster, Count All Her Bones, and so many more!
Can't wait to read:
Firebrand, A Million Junes,Our Dark Duet, and a pile of others!
---